The Mint 400 will allow the aftermarket turbo kit manufactured by Jackson Racing for the Honda Talon.
Aftermarket kits for additional platforms can be submitted approved on a case by case basis and must have factory approved part number.
Kits can be sold by authorized 3rd parties in addition to factory.
Only specific parts and kits will be approved. No interchanging of non-approved parts and no tampering with approved kit settings.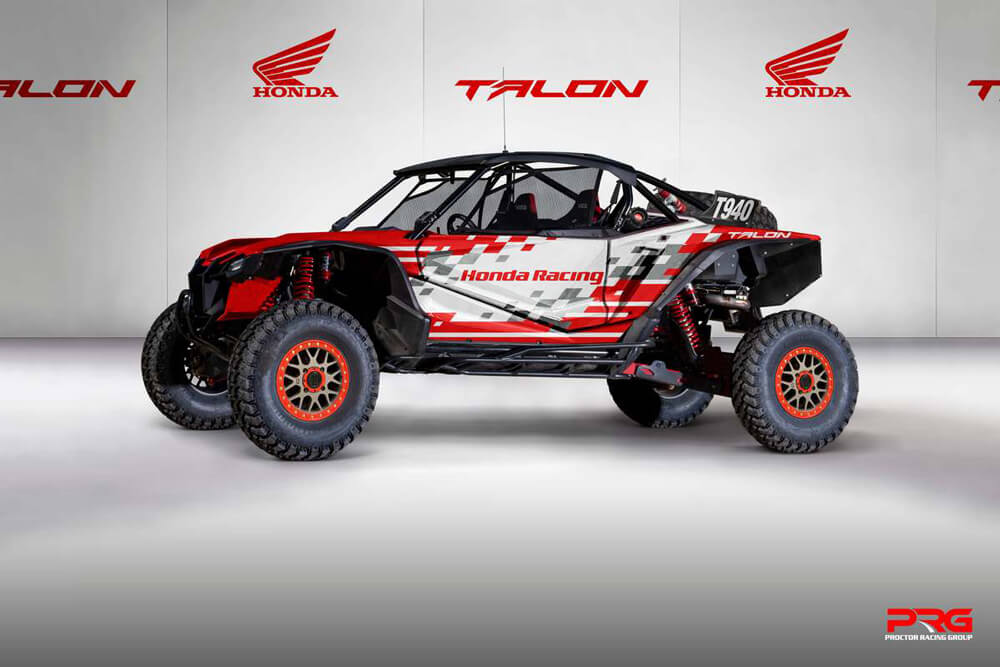 The Great American Off-Road Race™ announced today that it will allow approved aftermarket turbo kits beginning with the Honda Talon aftermarket turbo kit produced by Jackson Racing. The inclusion of aftermarket turbo kits is designed to allow more manufacturers to compete at the highest level within the Pro Turbo UTV Class. The Mint 400 has over 160 UTV racers compete in multiple classes including Pro Turbo UTV, Pro Normally Aspirated UTV, Unlimited UTV, UTV Sportsman, UTV RS1, and UTV Rally.
"Our goal is to create fair and highly competitive off-road racing in every class.   We have reviewed the Jackson Racing aftermarket turbo kit and approved it for competition.  The Pro Turbo UTV Class will benefit from additional manufacturers being involved at the highest competitive level and we are open to additional aftermarket turbo kit submissions from other manufacturers," said Mint 400 CEO, Matt Martelli.  "Honda's factory team is headed up by off-road businessman, Jeff Proctor. We are excited to see the two car factory program come and battle in the Pro Turbo UTV Class at The 2020 Mint 400!"
UTV Pro Turbo Class Definition:
UTV Pro Turbo class vehicles are built using production UTV's, manufactured by the following companies:  Polaris, Can-Am, Honda, Arctic Cat, Yamaha, Kawasaki. UTV's must have been series produced in quantities of at least 1,000 units within a 12-month period and be readily available to the general public in the U.S.A.  UTV's must have a minimum of 2 seats. OEM engines must be used. All OEM engine electronics must be used. ECM's may be flashed. No aftermarket ECM's are allowed. Maximum engine size is 1000cc.
All turbo's and their components must remain stock as delivered from the manufacture, i.e. turbo, exhaust pipes, intake manifold, inner cooler' etc. Vehicles not produced with a Forced Induction system may install a preapproved system.
Forced induction systems that were not originally installed on a manufactures engine must apply for approval. Only systems that have a vehicle manufactures part number, and is distributed through that manufactures dealership parts network will be allowed.
Approval requires a minimum of thirty (30) days.
Approved Non-Production Kits:
Honda Talon SXS
Supplier:  Jackson Racing
Part Number: 1000-HT1-J01R
To submit an aftermarket Turbo Kit for homologation contact:  tech@themint400.com